Cub Cadet FAQ's
SLIP Plate®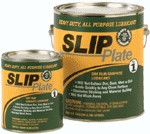 SLIP Plate is an easy-to-use, dry-film lubricant that eliminates almost any sliding friction problem
as well as an environmental barrier on farming, industrial, and home equipment.
The benefit of using SLIP Plate on equipment and tool surfaces includes wear resistance, increased flow characteristics,
corrosion resistance and sticking reduction.
Several premier equipment OEMs endorse SLIP Plate for their equipment and offer it through their dealer networks.

SLIP Plate can be sprayed or brushed on like a paint, and bonds to any clean metal, wood, concrete or plastic surface.
It provides a dry-film surface that will not attract dirt, dust or rust, won't melt, freeze or wash off, and resists most chemicals and solvents.
In a wide range of industrial, home, marine and farm applications,
offering increased efficiency and extended working life for all your tools and equipment.