Cub Cadet FAQ's
PTO Screw Removal
Info by Myron Bounds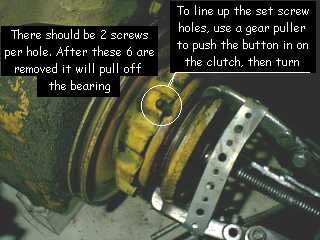 1) Soak the three holes with PB Blaster for a day or two...keep them wet.

2) Using a focused light, a pick, and spray parts cleaner,
clean out the Allen wrench holes in the set screws themselves so an Allen wrench actually goes to the bottom of the hole.

3) Get your self a NEW Looong style 1/8 Allen wrench (NOT a short one or a fold up type!!!)
and insert the shorter end into a set screw hole.
Now take light/medium ball-peen hammer and begin tapping on the allen wrench
so that the force of the blows go down the shorter end of the allen wrench to the set screw.
As you begin tapping, also slowly begin adding pressure on the long handle
in the direction which will turn the screw to the left (to screw it out). If this doesn't work at first.
Soak it some more over night and try again the next day...Patience is key here...you aren't making "instant mashed potatoes"
....Sooner or later you will get a "snap" and the set screw will begin to move....

In the unlikely event you actually have to drill them out, then get some left twist cobalt bits...
Begin with the 1/8 up to about 13/64 but always less than 1/4 which is the size of the set screw threads.
Then chase the threads with a standard 1/4-20 tap.