Cub Cadet FAQ's
HyTran Ultra Info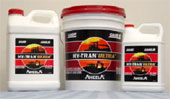 HyTran Ultra Tractor Fluid (MS-1209)
A unique all-weather hydraulic/transmission fluid
HyTran Ultra is designed to handle transmission, wet brake, and hydraulic systems. HyTran Ultra will enhance your brake and clutch capabilities, while helping to reduce brake chatter, clutch slippage and wear, and final drive wear. HyTran Ultra fluid is designed for use in ambient temperatures of –20F (-30C) to 120F (50C).
Specifically designed to provide better water tolerance and filtration efficiency than typical anti-wear hydraulic fluids. Water tolerance is crucial for preventing additive drop-out, filter plugging, and sluggish performance.
Blended to provide the stable viscosity essential to maintaining optimum machine performance and long-life.
Superior wear protection for hydraulic components, drive train gears and other transmission parts.
Controlled frictional characteristics provide smooth operation of wet brakes and clutches. Special non-zinc additives ensure a thermally and hydrolytically stable product, keep the system free of deposits, and prevent the creation of corrosive by-products.
Meets the frictional requirements of Caterpillar TO-2 and Allison C-3, as well as all performance requirements of the former International Harvester B-6 specification.

Thoroughly tested and approved by CNH engineering. Meets Case specification MS-1209.
Besides all that fancy talk above! IT WORKS!