Cub Cadet FAQ's
Front Axle Pivot Adjustment
Information by Kendell Ide
Years of use will cause the front cross member in the area of the axle pivot area to spread, allowing lateral movement of the axle. To alleviate this, the front cross member must be pinched back together and the axle pivot pin replaced if it is worn.
1: Remove the grill assembly and engine before starting this repair.
2: Disconnect the steering drag link from the left steering arm.
3: Drive the roll pin that retains the axle pivot pin out and then drive the pivot pin out,
dropping the entire axle assembly from the tractor.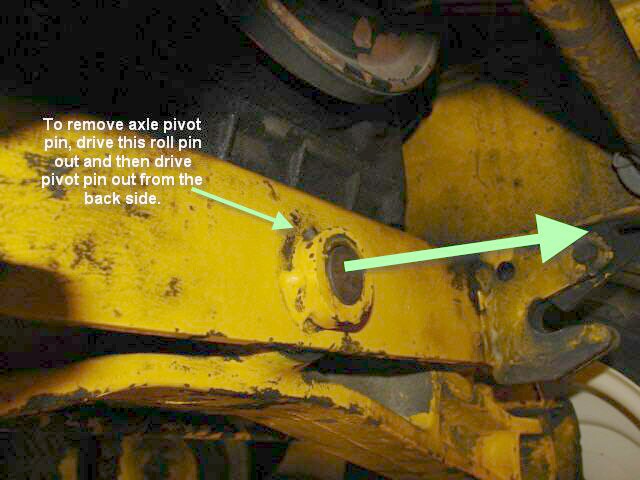 4. Put a flat washer onto a 3/4 inch fine thread grade 8 bolt, 6 inches in length,
put the bolt through the pivot pin holes in the cross member.
Install a second flat washer onto the bolt and then thread a 3/4 inch grade 8 fine thread nut on the end of the bolt.
5. It will take considerable torque on the bolt to pinch the cross member, so you'll need fairly long wrenches.
I use an older Snap-on ratchet style torque wrench on the nut and a breaker bar and socket on the bolt head.
6. Take your time, loosen the bolt and measure how much you have closed it up often.
Don't close it up too much, as getting the cross member opened back up is quite a chore.
7. Once the cross member gap is closed up, reassemble the tractor in reverse order of disassembly.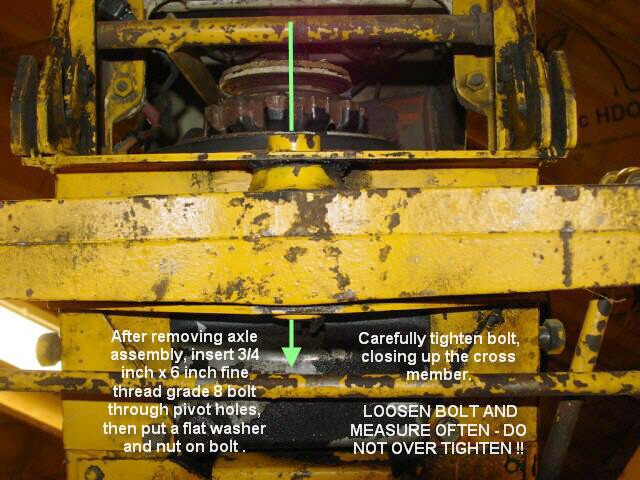 Copyright Cubfaq.com. All rights reserved. 2005-07